Our Company
FanzeTech is a sister concern company of Vizrex (Private) Limited which works dedicated only on Islamic Mobile Apps.</p>
<p>FanzeTech develop Islamic Apps with Authentic and Verified Content to facilitate religious practices with ease. Quality and performance are the factors which motivates us to make great apps. The whole content of our apps is fully authentic and verified by expert religious scholars. By the grace of Allah Almighty our apps are the most top rated and highest ranked on Google Play Store. Holy Quran is especially on 1st rank since last 4 Years. Elegant layouts with beautiful graphics feels like reality. All our apps are designed carefully to ensure great looks and a highly user friendly experience. All of our apps are absolutely free. We do not charges you for using our apps. Enjoy full versions of our apps absolutely free without any charges or limitation of trial.</p>
<p>
20 June 2015
Launched Tasbih and Punj Surah
03 Jan 2015
Holy Quran got 1st Rank on Google Play Store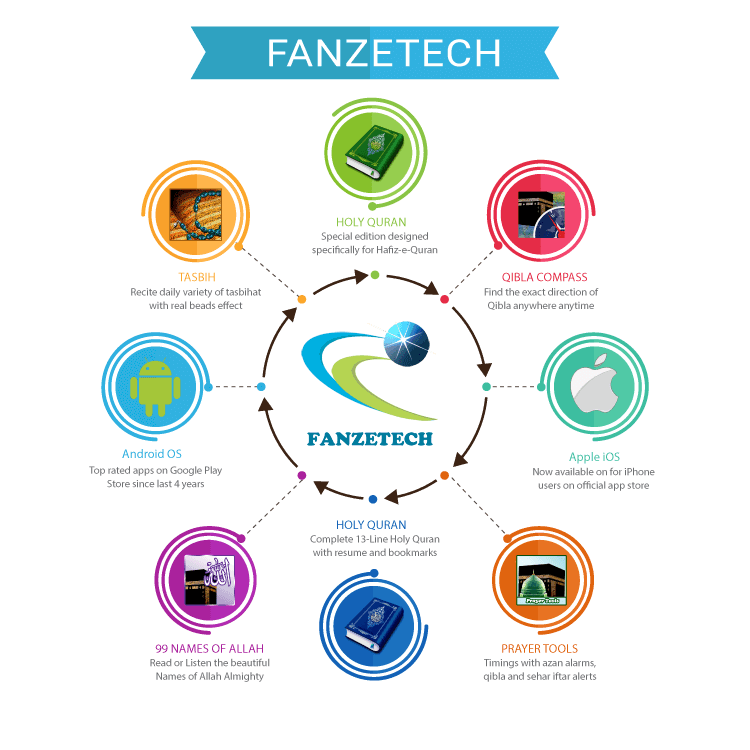 7 Million+ Downloads
Until now we have more than 7 million satisfied users and the number is still growing on daily basis.
160+ Countries
By the grace of Allah Almighty our apps are being used in more than 160 countries worldwide.
230K Ratings
More than 230K users have reviewed and rate our apps on official stores with an average of 4.8 out of 5.
World's # 1 Islamic Apps Developer
Premium Content
Quality and performance are the factors which motivates us to make great apps. The whole content of our apps is fully authentic and verified by expert religious scholars.
Top Rated Apps
By the grace of Allah Almighty our apps are the most top rated and highest ranked on Google Play Store. Holy Quran is especially on 1st rank since last 4 Years.
Handcrafted UX
Elegant layouts with beautiful graphics feels like reality. All our apps are designed carefully to ensure great looks and a highly user friendly experience.
Totally Free
All of our apps are absolutely free. We do not charges you for using our apps. Enjoy full versions of our apps absolutely free without any charges or limitation of trial.